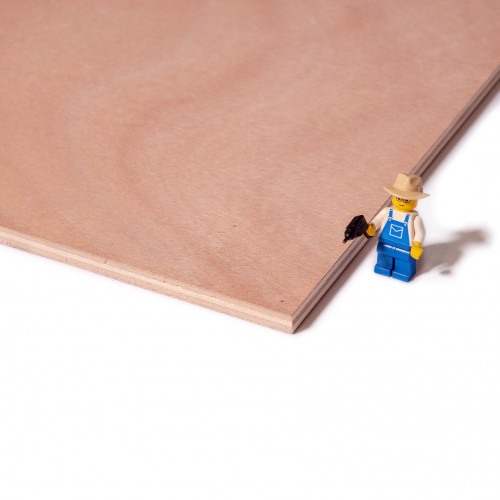 Marine plywood
Heatproof
Homogenous and flexible
Moisture-resistant
Appearance
With its appearance of solid wood, marine plywood made entirely from okoume can also be sanded so you can apply a paint or a varnish depending on what you prefer or to match your home's interior.
Uses
CTB-X okoume plywood, CTB-X Bardage (weatherboarding) plywood or CTB-X Marine plywood means wood panels that stand up to everything. These kind of wood panels can be used to make fittings for your bathroom, office or kitchen or to make custom shelves for an external garage.|
Characteristics
Okoume plywood  is made of several layers that are bonded together. These thin sheets of wood (each layer is called a "ply") are glued together and hot pressed in accordance with the EN 314-2 class 3 standard which results in a material that is resistant to moisture, weight or even mechanical bending, which can then be custom cut for you without splinters.
Technical informations
Minimum dimensions

240 x 240 mm

Maximum dimensions

1800 x 1200mm

Look

Material

Finish

Standard

Certification
Une livraison gratuite
J+3 supplément express
J+8 livraison gratuite*
J+15 livraison gratuite* + 5% de réduction
*(hors affrètement spécial)

Des prix dégressifs
Une dégressivité des prix en fonction des matières et des quantités. Pour vous offrir les meilleurs tarifs

Vos achats en 3x sans frais
Pour vos achats de 100€ à 1500€, profitez du paiement en 3 fois sans frais... pour toujours plus de sur-mesure
Reviews about this product

Show attestation
Bois de qualité et très bon service !