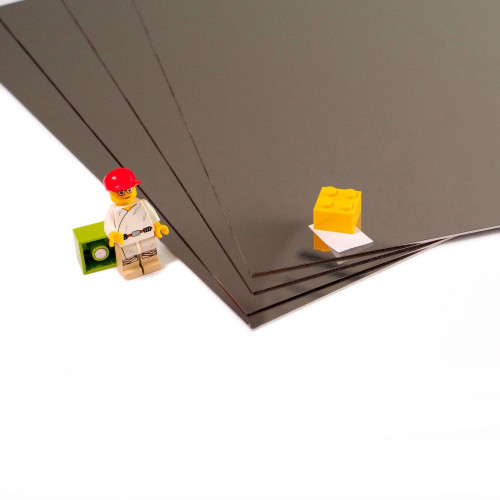 Reflective magnetic 430 stainless steel
Magnetic
Old mirror appearance
Comes with film protection
Appearance
As well as being magnetic, this stainless steel is often sought after for how shiny it is as it looks like an old mirror. 
Uses
Ideal for decorative purposes, you can use 430 magnetic stainless steel to make a magnetised notice board for adding your shopping list and postcards to or for giving furnishings or bars a really classy look.
Characteristics
The reflective side of this ferritic annealed 430 stainless steel is protected by a film to prevent marks or scratches during everyday use.
Technical informations
Minimum dimensions

40 x 40 mm

Maximum dimensions

2480 x 1230 mm

Thickness

1 mm

Look

Reflective and soft

Application

Indoor (Magnetic board, design piece) - Outdoor

Defect

Visible scratches on the non-filmed side (back)

Reference

Magnetic 430RB stainless steel

Fiche technique

Technical sheet Stainless Steel
Une livraison gratuite
J+3 supplément express
J+8 livraison gratuite*
J+15 livraison gratuite* + 5% de réduction
*(hors affrètement spécial)

Des prix dégressifs
Une dégressivité des prix en fonction des matières et des quantités. Pour vous offrir les meilleurs tarifs

Vos achats en 3x sans frais
Pour vos achats de 100€ à 1500€, profitez du paiement en 3 fois sans frais... pour toujours plus de sur-mesure
Reviews about this product

Show attestation
Le travail est bien fait sauf une tache que je n'arrive pas à enlever de la plaque mais hors ça zmrout est nickel ????

Ce serait top de pouvoir découper des plus petits objets. (Notre projet visait au final à obtenir des rectangles de 10mm*4mm)

Super merci ma fille est ravie. Service nickel, transport au top, prestation plus rapide que prévue. Bonne découpe, bon matériel.

Délai un peu long, mais il y a eu des problèmes d'approvisionnement de matière. Frais de part élevés mais emballage parfait pour que ma commande arrive en bon état. J'ai porté ma plaque magnétique chez un encadreur qui va mettre une belle baguette autour pour en faire un pêle mêle.

Perfection à tous les niveaux, produit conforme découpé comme désiré, livraison rapide, emballage top....

Configurateur simple et complet, livraison rapide, emballage parfait, produit conforme et parfaitement protégé. Rien à reprocher !

Service très agréable, facile à utiliser et clair. Envoi rapide et bien emballé. Je recommande.