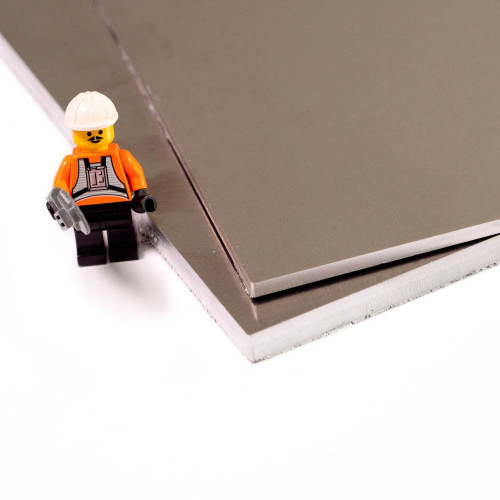 Raw and bright aluminum
Light
Solid
Anti-corrosive
Appearance
Visually raw and brilliant, this aluminum is a material is acclaimed for both indoor and outdoor environments. It is also peculiar to evolve over time (whitening).
Use
Easily manipulated, this raw aluminum plate will bring a touch of modernity in any situation. Ideal for making shelves or consolidating a fence, raw aluminum will bring a touch of modernity.
Characteristics
Lighter than steel, the raw and shiny aluminum sheet is a good compromise between lightness and strength. The alloy has a high resistance to corrosion in marine and industrial environment. This high strength makes it perfect for flooring.
Technical informations
Minimum dimensions

40 x 40 mm

Maximum dimensions

2980 x 1480 mm

Thickness

4 - 5 - 6 - 8 - 10 mm

Look

Raw and polished

Application

Custom creations - Renovation - Personalized

Defect

Scratches visible on both sides (*)

Reference

Aluminium 5754H111 raw

Fiche technique

Technical Sheet Aluminium 5754
Une livraison gratuite
J+3 supplément express
J+8 livraison gratuite*
J+15 livraison gratuite* + 5% de réduction
*(hors affrètement spécial)

Des prix dégressifs
Une dégressivité des prix en fonction des matières et des quantités. Pour vous offrir les meilleurs tarifs

Vos achats en 3x sans frais
Pour vos achats de 100€ à 1500€, profitez du paiement en 3 fois sans frais... pour toujours plus de sur-mesure
Reviews about this product

Show attestation
9.2/10

Based on 14 reviews
Aucun problème sur la qualité du produit, par contre le délai n'a pas été tenu alors que l'option express a été souscrite. (peut-être que le prestataire transport est en cause ? ... et qu'il n'a pas jugé bon de livrer un samedi ?)

Merchant's answer

Bonjour, Je vous remercie pour votre commentaire. Effectivement avec le délai express, notre production est très rapide. Malheureusement, France Express n'a pas pu vous livrer le samedi et l'a fait le premier jour possible donc lundi. Nos délais n'engagent que la partie production, que nous contrôlons, la livraison ne peut être garantie en express de par les aléas de la route et le potentiel manque de visibilité par moment. Navré pour la gêne occasionnée, Cordialement, John

Pour un projet personnel j'avais besoin d'une platine en aluminium avec une découpe bien précise. J'ai facilement fait la demande de devis sur le site, j'ai un un très bon retour avec des conseils et même quelques modifications sur mon fichier d'origine pour que la découpe se fasse au mieux. L'envoi fut rapide, sécurisé et la réception parfaite.

Produit arrivé très vite et super bien emballé, mais avec, d'origine, une des faces fort griffée, et aucune réponse du service client suit à ma remarque.

Merchant's answer

Bonjour, Je vous remercie pour votre commentaire. Les rayures sont présentes selon les matières. Il est impératif de lire les fiches produits avant de commander, nous avons de nombreuses informations utiles sur celles-ci. Pour contacter le service client, vous pouvez utiliser les canaux prévus à cet effet : https://www.john-steel.com/fr/nous-contacter

Ras, Pièce conforme à la demande. Prix correct et donc je recommande les services

Parfait pour la précision de la découpe, les délais de livraisons respectées et les informations de suivi. Juste un petit bémol en raison d'une marque d'appui sur l'alu sur toute la largeur au droit de la découpe, sous le film plastique ( manifestement passage de l'outil de découpe laser).

Réalisation conforme à la commande et livraison à la date prévue. Excellent

Pièces parfaites. Livraison dans le délai prévu. Rien à redire !

Parfait, rapide, efficace, belle qualité et prix raisonnable

Rapid produit bien réaliser bien emballé c'est parfait

Produit parfait et livré rapidement