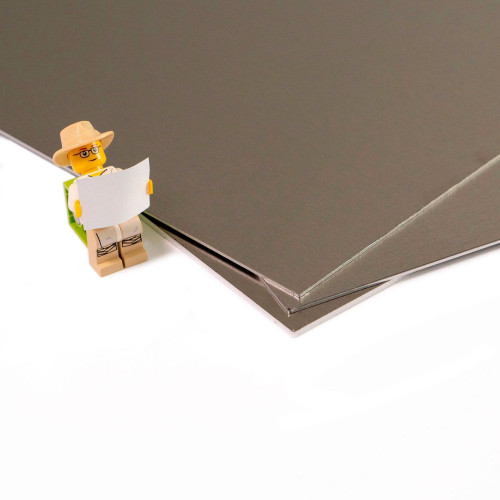 Raw and bright aluminum w/ PVC protective layer
Thin thicknesses
Supplied with a protective film
Gloss
Appearance
An industrial and modern style, the Raw and bright aluminum with a protective layer will fit perfectly to your needs. Its matte silver-gray appearance make it a star in decoration and renovation.
Use
The implementation is rather easy and applications are possible inside or outside (protection of door stockings, facade coverings, roof covers, etc), as well as in communication (signs and signs), etc.
Characteristics
The raw aluminium can also be distorted easily because of its thin thickness. A plastic film protects the shiny side. Lighter than steel, it is a good compromise between lightness and solidity. It does not require anti-rust treatment because it has good resistance to corrosion. If used in a wet or outdoor environment, it may fade.
Technical informations
Minimum dimensions

40 x 40 mm

Maximum dimensions

2980 x 1480 mm

Thickness

1 - 1,5 - 2 - 3 mm

Look

Raw and glossy plasticized

Application

Renovation - Signage - Customized

Defect

Visible scratches on the non-filmed side (back)(*)

Reference

Aluminium 5754H111 raw filmed

Fiche technique

Technical Sheet Aluminium 5754
Une livraison gratuite
J+3 supplément express
J+8 livraison gratuite*
J+15 livraison gratuite* + 5% de réduction
*(hors affrètement spécial)

Des prix dégressifs
Une dégressivité des prix en fonction des matières et des quantités. Pour vous offrir les meilleurs tarifs

Vos achats en 3x sans frais
Pour vos achats de 100€ à 1500€, profitez du paiement en 3 fois sans frais... pour toujours plus de sur-mesure
Reviews about this product

Show attestation
J'ai reçu mes découpes il y a peu, dans les délais et c'est parfait, absolument parfait, un mini rêve qui devient realité pour moi ??. Merci à l'équipe de John Steel pour leur travail ??

Produit parfait. Livraison très rapide.

Produit livré rapidement et conforme à la commande. Coupe précise du matériau. Projet personnalisable.

J'ai commandé une plaque d'aluminium pour réaliser une extension de tableau de bord d'une vielle voiture. Et franchement je suis plus que satisfait. La finition est nickel et la découpe parfaite. Livraison un peu longue si on prend l'option gratuite et chère pour l'option payante vu le prix de ma pièce. Néanmoins je recommande vraiment John Steel et je reviendrai faire des commandes. Guillaume

Vraiment TOP. Le produit est de super qualité. Les trous et découpes super propres. Service client très réactif. Livraison et emballage plus que parfait.

Ras. La découpe est top. J'aurais aimais bien avoir le choix sur un alu brossé noir. Autrement top

produit bien emballé et conforme à la description, merci !

Produit conforme à mes attentes , colis et livraison parfaits