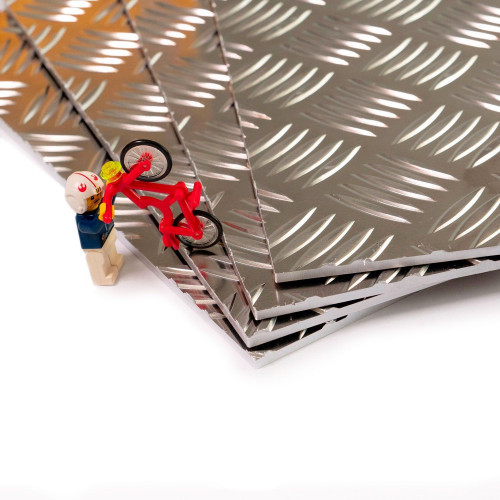 Raw Aluminum Diamond Tread Plate
For outside use
Robust
Non-slip
Appearance
The non-slip aluminium combines lightness and robustness, and has a non-slip surface. With its raw appearance and the presence of drops to avoid slipping, it can fade in a damp environment or outside thanks to an anti-rust treatment which also provides its matte colour.
Use
Because of its high resistance, it will be perfect as a runner plates. If you are looking for a custom metal plate that can act as walkways, stairway covers or garden slabs, the raw non-slip aluminium is the metal to choose.  |
Characteristics
This raw aluminium combines lightness, robustness and in addition has a non-slip surface ideal in rain. It does not require anti-rust treatment, but may fade in damp or outdoor environments. The non-slip aluminum sheets are made of 5 drops in checkers, 5/4 mm.
Technical informations
Minimum dimensions

40 x 40 mm

Maximum dimensions

2990 x 1490 mm

Thickness

Core 4 mm + Tear 1 mm

Look

Rough and striated

Application

Exterior (Renovation and safety)

Defect

Scratches visible on both sides (*)

Reference

Non-slip 5754H111 aluminum

Fiche technique

Technical Sheet Aluminium 5754
Une livraison gratuite
J+3 supplément express
J+8 livraison gratuite*
J+15 livraison gratuite* + 5% de réduction
*(hors affrètement spécial)

Des prix dégressifs
Une dégressivité des prix en fonction des matières et des quantités. Pour vous offrir les meilleurs tarifs

Vos achats en 3x sans frais
Pour vos achats de 100€ à 1500€, profitez du paiement en 3 fois sans frais... pour toujours plus de sur-mesure
Reviews about this product

Show attestation
Excellent travail sur le produit demandé

Excellent produit, fait avec precision et expertise professionelle. Livraison rapide et efficace.

Produit non conforme à la demande et aux plans.

Merchant's answer

Bonjour, Je vous remercie pour votre commentaire. Sachez que vous pouvez discuter à tout moment avec notre service clientèle au 0800 746 548 Que ce soit pour connaître nos contraintes techniques ou pour toutes autres questions. C'est également valable si il y a une non conformité, pour ainsi la comprendre et la corrigé.

Tôles découpées selon mes specs et arrivées rapidement, très bien emballées (bravo pour les cartons solides et originaux). Une petite remarque sur l'outil mis à disposition pour les dimensions et les découpes : je n'ai pas pu vérifier mes découpes en fin de processus ni à les corriger éventuellement (et j'avais fait une petite erreur !). Mon inexpérience ou une faiblesse de l'outil ?