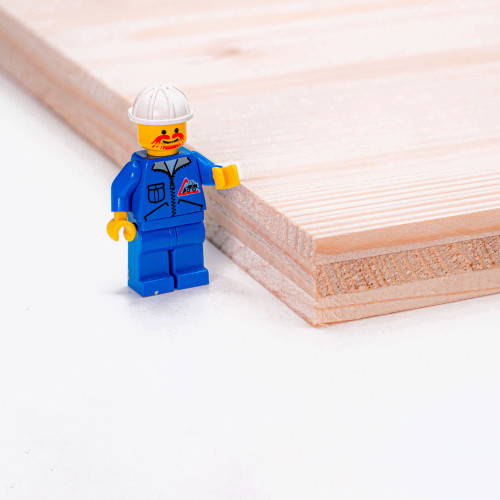 3-ply fir tree panel
Ideal for making furniture
Can be easily worked
Resistant to bending
Appearance
3-ply fir tree softwood panels can be used for multiple applications, both indoors and outdoors. This kind of wood is made of 3 different layers, which makes it very hard-wearing while remaining light. 3-ply fir tree panels have a very characteristic look with a lot of knots and veins on the surface.
Whether you want a bench, table or even a guest bed, use our online virtual designer to design your pieces and put together your own creation.
Uses
In your garden, you can use these 3-ply natural wood panels to create a custom-made gate or shutters. In your apartment or house, three-ply fir panels are great for making partitions or screens to separate off different spaces.
As decoration, you can transform your panels into custom furniture. For outdoor use, treat these panels with a stain or saturating oil.|
Maintenance:
- To clean, use a soft cloth soaked with cleaning products
- Protect your panel by regularly applying a special wax or oil
Characteristics
3-ply fir tree panels is a raw material made of 3 different layers from the same type of tree which are bonded together to make something that is very hard-wearing and tough yet very lightweight.
If you need to store these panels, lie them flat or at 90° on shims in a dry, contained space.
Technical informations
Minimum dimensions

240 x 240 mm

Maximum dimensions

1800 x 1200 mm

Thickness

Look

Quality

Material

Defect

Finish

Standard

Certification

Fiche technique

Technical sheet 3 plywood
Une livraison gratuite
J+3 supplément express
J+8 livraison gratuite*
J+15 livraison gratuite* + 5% de réduction
*(hors affrètement spécial)

Des prix dégressifs
Une dégressivité des prix en fonction des matières et des quantités. Pour vous offrir les meilleurs tarifs

Vos achats en 3x sans frais
Pour vos achats de 100€ à 1500€, profitez du paiement en 3 fois sans frais... pour toujours plus de sur-mesure
Reviews about this product

Show attestation
Très satisfaite du produit et de la livraison.