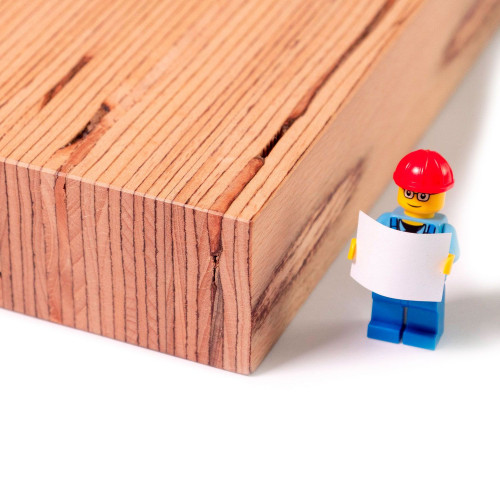 Beech Laminate
Classy and smart
Ideal for sturdy worktops
Can be used indoors
Appearance 
Beech laminate will make your home look amazing. Its slender design is ideal for creating designer interiors. Its construction makes it very hard-wearing so you can use it for a large number of applications.
Uses
Show off your creativity with custom-made table tops, sturdy worktops or original store counters. BauBuche laminate panels bring a touch of "decor" to the simplest furniture so that your benches and indoor stools will be as beautiful as they are durable and tough.
Want something on a larger scale? Use these panels for walls, ceilings or even modernising your steps and staircases.
Maintenance:
- To clean, use a soft cloth soaked with cleaning products
- Protect your panel by regularly applying a special wax or oil
Characteristics
Beech laminate is also called lamiwood or veneer wood. It is as easy to work with as solid wood. After sanding each surface, you can apply a protective varnish or stain to tint the panel. For use outdoors or in a humid environment, you will need to apply a protective coat or treatment (varnish, stain, saturating treatment).
      Outside: somewhere sheltered only
 Cut out your beech laminate panel from your measurements right now with our online virtual designer.
Technical informations
Minimum dimensions

240 x 240 mm

Maximum dimensions

1800 x 660 mm

Thickness

Look

Material

Defect

Standard

Certification

Fiche technique

Technical sheet Beech laminate
Une livraison gratuite
J+3 supplément express
J+8 livraison gratuite*
J+15 livraison gratuite* + 5% de réduction
*(hors affrètement spécial)

Des prix dégressifs
Une dégressivité des prix en fonction des matières et des quantités. Pour vous offrir les meilleurs tarifs

Vos achats en 3x sans frais
Pour vos achats de 100€ à 1500€, profitez du paiement en 3 fois sans frais... pour toujours plus de sur-mesure
Reviews about this product

Show attestation
Bonne qualité et qualité constante, support très réactif, facilité d'utilisation.

Un plan de travail de qualité. Un service client très compréhensif et arrangeant.

Le produit livré est conforme à mes attentes. Le délai a peut-être été un peu long ce qui explique que je n'ai pas mis 5/5 pour la livraison.