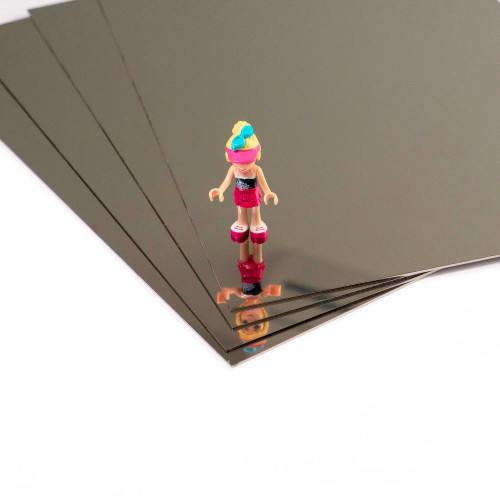 Mirror finish stainless steel
Thin and rigid
Mirrored effect
Comes with film protection
Appearance
This stainless steel non-directional mirror (super-mirror) is the almost perfect imitation of the grey mirror, highly valued for its appearance, which is of a higher quality than that of glass.  It will add a stylish and trendy touch to your furniture and your decorative items.
Uses
Perfect for decorating your bathroom, your kitchen, your lounge or even as a furniture front, to reflect your decorative items.
C

haracteristics
Thanks to the properties of stainless steel 304, the Mirror finish stainless steel is suitable for wet environments and those used for food preparation, with no risk of it breaking into a thousand pieces. The sheet is film-coated to protect the appearance during cutting and transportation.
We can cut sizes up to 2990 x 1490 mm, which should allow you, for example, to cover a wall from floor to ceiling.
Technical informations
Minimum dimensions

40 x 40 mm

Maximum dimensions

2990 x 1490 mm

Thickness

1,5 mm

Look

Refined mirror

Application

Indoors (bathroom, kitchen or living room mirrors) and outdoors

Defect

Visible scratches on unfilmed side (reverse) (*)

Reference

304L mirror stainless steel

Fiche technique

Fiche technique Inox
Une livraison gratuite
J+3 supplément express
J+8 livraison gratuite*
J+15 livraison gratuite* + 5% de réduction
*(hors affrètement spécial)

Des prix dégressifs
Une dégressivité des prix en fonction des matières et des quantités. Pour vous offrir les meilleurs tarifs

Vos achats en 3x sans frais
Pour vos achats de 100€ à 1500€, profitez du paiement en 3 fois sans frais... pour toujours plus de sur-mesure
Reviews about this product

Show attestation
Merci pour la précision et la rapidité d'exécution. J'avais besoin d'un plaque décorative pour ma porte d'entrée pour masquer des trous après remplacement de serrure. Le produit fini est parfait prêt à poser et à un tarif très raisonnable.

L'idée était de rafraîchir un cuisine en posant une crédence en miroir. Mais après avoir découvert John, l'inox poli est encore mieux, pas de raccord. Service rapide, Materiaux de qualité, super rendu, facile à poser ??

Pièce reçue exactement comme attendue, livraison plutôt rapide.

Tout s'est très bien déroulé. Bravo. Satisfaite de ma commande.

Très bon travail, aucune bavure sur la pièce et super bien emballé. Merci