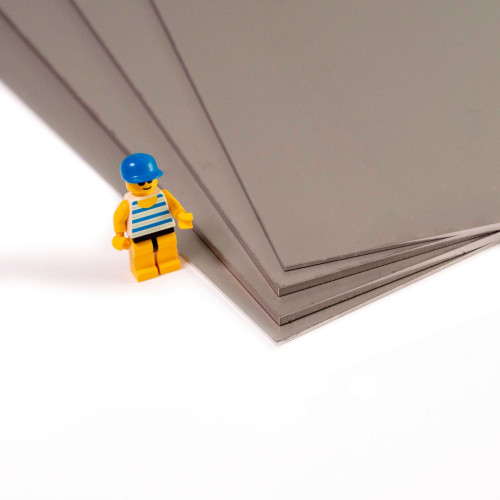 Bright 316L Marine Stainless Steel
Resistent to the sea air
Perfect for outdoor use
Comes with film protection
Appearance 
Bright 316L Marine Stainless Steel is much more suited than to aggressive or wet environments than 304 stainless steel due to its added nickel and chrome content. The result is a material that stands up to anything.
Uses
Perfectly suited to saltwater and marine applications, it is ideal for use on boats and swimming pools, but is also used in the pharmaceutical, medical, paramedical, food and hospital domains.
Characteristics
The shiny side is protected by a film layer. The unfinished appearance and the thickness make 316L unfinished marine-grade stainless steel very hard to scratch and gives it great resistance to corrosion and chemicals.
Technical informations
Minimum dimensions

40 x 40 mm

Maximum dimensions

2980 x 1480 mm

Thickness

2 mm

Look

Rough and smooth

Application

Marine or saline environments (coastal areas)

Defect

Visible scratches on the non-filmed side (back)(*)

Reference

Stainless steel 316L marine rough coated

Fiche technique

Technical sheet Stainless Steel
Une livraison gratuite
J+3 supplément express
J+8 livraison gratuite*
J+15 livraison gratuite* + 5% de réduction
*(hors affrètement spécial)

Des prix dégressifs
Une dégressivité des prix en fonction des matières et des quantités. Pour vous offrir les meilleurs tarifs

Vos achats en 3x sans frais
Pour vos achats de 100€ à 1500€, profitez du paiement en 3 fois sans frais... pour toujours plus de sur-mesure
Reviews about this product

Show attestation
la qualité du produit et la qualité de l'emballage pour mieux faire essayer de réduire le j+8

Materiel reçu exactement tel que decrit. Emballage trés bien fait, rapidité de l'envoi

Article comme j'avais demandé. Accueil très agréable. Merci a vous

conforme à ma demande, rapide et sans souci

Repond totalement à mes attentes

Produit conforme Emballage sérieux et efficace. Que du bon Je recommande

Très satisfait, livraison rapide et conforme