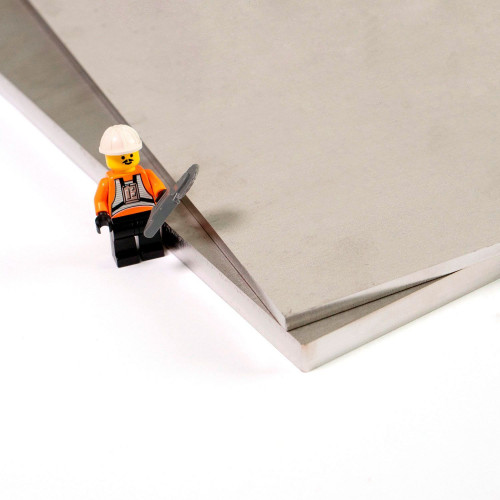 Raw Stainless Steel
Stainless
Durable
Suitable for TIG welding
Appearance
This material is quite like ordinary steel, because it is thick and it is unpolished. Indispensable for many uses thanks to its immunity to rusting, it is suitable for food use (in kitchens and professional buffets) and for damp environments.
Use
Ideal outdoors, to turn your barbecue area into a summer kitchen or for a griddle, choose 304L raw stainless steel.
Characteristics
Raw stainless steel, is as heavy and strong as ordinary steel but doesn't rust. And what's more, it doesn't need any treatment.
Technical informations
Minimum dimensions

40 x 40 mm

Maximum dimensions

2980 x 1480 mm

Thickness

4 - 5 - 6 - 8 - 10 mm

Look

Raw

Application

Interior and exterior

Defect

Scratches visible on both sides (*)

Reference

stainless steel 304L raw

Fiche technique

Fiche technique Inox
Une livraison gratuite
J+3 supplément express
J+8 livraison gratuite*
J+15 livraison gratuite* + 5% de réduction
*(hors affrètement spécial)

Des prix dégressifs
Une dégressivité des prix en fonction des matières et des quantités. Pour vous offrir les meilleurs tarifs

Vos achats en 3x sans frais
Pour vos achats de 100€ à 1500€, profitez du paiement en 3 fois sans frais... pour toujours plus de sur-mesure
Reviews about this product

Show attestation
Article reçu conforme à la commande. Très bien emballé. Je recommande.

La piece commandée correspond parfaitement a la demande. Très bon service. Je recommande.