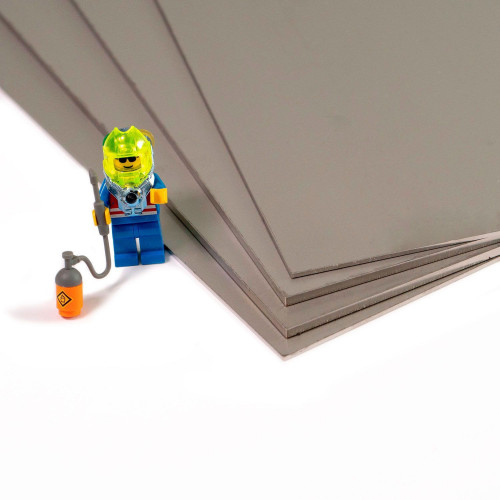 Chemically protected Raw Marine Stainless Steel 316L
Chemical resistance
Unpolished finish
Suitable for sea air
Appearance
This chemically protected Raw Marine Stainless Steel 316L has many advantages and can be used to renew and protect for the most hostile conditions.
Uses
This marine stainless steel is ideal for the protection of furniture in a harsh environment, but also for the trim and fittings of boats as well as for pontoons and swimming pool equipment. 316L stainless steel stands for its suitability to marine or saline, aquatic, hospital, medical, paramedical and pharmaceutical environments.
Characteristics
Unpolished 316L stainless steel is particularly resistant to chemical corrosion due to its molybdenum content. It is not affected by chlorine, sea-water or various detergents. It is used in marine or saline, aquatic, hospital, medical, paramedical and pharmaceutical environments.
Technical informations
Minimum dimensions

40 x 40 mm

Maximum dimensions

2980 x 1480 mm

Thickness

4 mm

Look

Raw and thick

Application

Marine or saline environments (coastal areas)

Defect

Scratches visible on both sides (*)

Reference

Raw marine grade 316L stainless steel

Fiche technique

Technical sheet Stainless Steel
Une livraison gratuite
J+3 supplément express
J+8 livraison gratuite*
J+15 livraison gratuite* + 5% de réduction
*(hors affrètement spécial)

Des prix dégressifs
Une dégressivité des prix en fonction des matières et des quantités. Pour vous offrir les meilleurs tarifs

Vos achats en 3x sans frais
Pour vos achats de 100€ à 1500€, profitez du paiement en 3 fois sans frais... pour toujours plus de sur-mesure
Reviews about this product

Show attestation
Conforme et dans les délais

Le matériel est arrivé avec des traces de feutre vert difficile à enlever et des rayures... Des photos sont disponibles si nécessaire.

Merchant's answer

Bonjour, Je vous remercie pour votre demande. Les traces de feutre ou d'impression, sont souvent obligatoires pour nous. Elles servent d'identification de matière et de commande. Elles s'effacent facilement avec un dissolvant. Vous pouvez nous contacter pour en discuter à tout moment, via le formulaire de contact ou sur notre téléphone 0800 746 548.

très bien découpé, Merci !