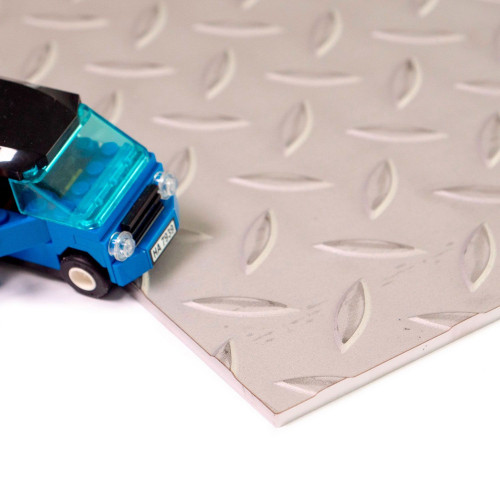 Stainless steel tread plate with a raw finish
Non-slip
Doesn't rust
Can be driven over by light vehicles
Appearance
Just like steel with a tread plate finish, this 304 L stainless steel is non-slip and has an unfinished, matte appearance. This extremely versatile sheet with its diamond or checkered plate design is a stainless steel that can be used for all indoor and outdoors works.
Uses
As it's sturdier than aluminium, 304 L non-slip stainless steel is often used on the bottom of doors or to cover manholes and channels. Ideal for preventing falls in rainy weathy, this stainless steel will not rust over time.
Characteristics
With stainless properties that stands up to anything (no risk of rusting), and uncommon resistance to corrosion, UV light and temperature variations, non-slip stainless steel is a metal for any situation.
Technical informations
Minimum dimensions

40 x 40 mm

Maximum dimensions

2480 x 1230 mm

Thickness

Core 4 mm + Tear 1 mm

Look

Rough and striated

Application

Exterior (door sills, hatch covers) - Interior (protection & safety)

Defect

Scratches visible on both sides (*)

Reference

Non-slip 304L stainless steel

Fiche technique

Fiche technique Inox
Une livraison gratuite
J+3 supplément express
J+8 livraison gratuite*
J+15 livraison gratuite* + 5% de réduction
*(hors affrètement spécial)

Des prix dégressifs
Une dégressivité des prix en fonction des matières et des quantités. Pour vous offrir les meilleurs tarifs

Vos achats en 3x sans frais
Pour vos achats de 100€ à 1500€, profitez du paiement en 3 fois sans frais... pour toujours plus de sur-mesure
Reviews about this product

Show attestation
Produit correspondant parfaitement à la commande. Livraison le jour prévu. C'est tout ce que l'on demande.

La finition de la pièce est excellente, La livraison est rapide, L'emballage est nickel, Je recommande sans réserve.

Tôle à larmes inoxydable de bonne qualité découpée à la côte . Rien à dire

Dans les temps et bien emballé. Parfait