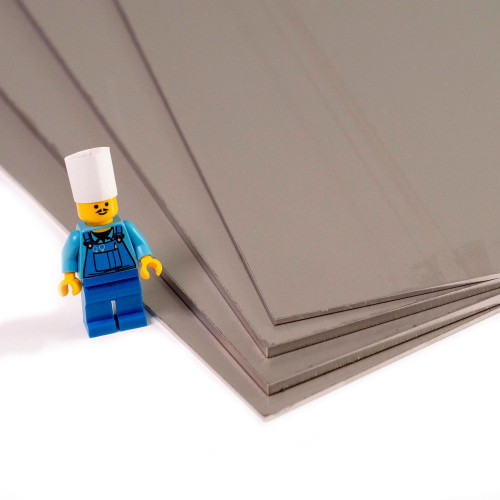 Bright stainless steel
Film protection
Suitable for contact with food
Resistant to high temperatures
Appearance
The natural shine of stainless steel is preserved thanks to the protective film that has been applied to the sheet. Suitable for contact with food, it is hygienic and resistant to high temperatures and UV rays, unlike aluminium. Ideal for both indoors and outdoors use, plain, shiny 304L stainless steel can be used to cover furniture, renovate your garden table or refurbish a kitchen worktop.
Use
To keep it clean, John advises you to use a fairly soft cloth to avoid scratching your custom stainless steel sheet. |
Characteristics
This bright stainless steel sheet is protected by a film to prevent any marks or scratches appearing on the shiny side.
Technical informations
Minimum dimensions

40 x 40 mm

Maximum dimensions

2980 x 1480 mm

Thickness

1 - 1,5 - 2 - 2,5 - 3 mm

Look

Rough and polished

Application

Kitchen furniture, interior and exterior decoration

Defect

Visible scratches on the non-filmed side (back)

Reference

304L stainless steel, raw, film-coated

Fiche technique

Fiche technique Inox
Une livraison gratuite
J+3 supplément express
J+8 livraison gratuite*
J+15 livraison gratuite* + 5% de réduction
*(hors affrètement spécial)

Des prix dégressifs
Une dégressivité des prix en fonction des matières et des quantités. Pour vous offrir les meilleurs tarifs

Vos achats en 3x sans frais
Pour vos achats de 100€ à 1500€, profitez du paiement en 3 fois sans frais... pour toujours plus de sur-mesure
Reviews about this product

Show attestation
Crédence posée et je suis ravie du rendu!

Bon produit,conforme à la description et envoi rapide

Bonne qualité et découpe bien réalisée. emballage parfait et très bon suivi. Très satisfait et je recommande

Découpé parfait, je recommande vivement. A bientôt, car j'ai d'autres projets....

Cotes respectées, envoi dans les délais et emballage remarquable ! Bravo et merci !