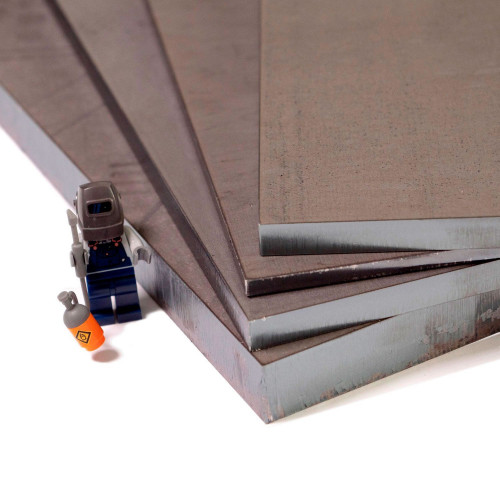 Blasted and greased steel
Very good for welding
Good mechanical resistance
Wear and shock resistance
Appearance
Obtained through pickling and with an oil layer applied for transport, blasted and greased steel can be instantly recognised by its greyish appearance.
Uses
It is mainly used for automotive and mechanical parts but also sometimes to reinforce doors and gates or to shore up a garden parasol base for example.
This is THE metal that all professional DIY experts use, those who know how to weld, and have equipment for handling metal and who have mastered how to work it!
Characteristics 
Depending on the thickness, this blasted steel sheet is able to withstand vehicles driving over it without being affected and is also wear and shock resistant. However, it does need galvanising or a coating (if you want to keep the colour) to stop it rusting.
With a very good mechanical resistance (tensile resistance of 35kg per mm2), this S355MC steel is very good for welding.
Technical informations
Minimum dimensions

40 x 40 mm

Maximum dimensions

2980 x 1480 mm

Thickness

2 - 3 - 4 - 5 - 6 - 8 - 10 - 12 - 15 - 20 mm

Look

Greyed and varnished on the edges

Application

Exterior (auto mechanics - renovation)

Defect

Possibility of scratches

Reference

Raw S355MC steel

Fiche technique

Technical sheet S355 Steel
Une livraison gratuite
J+3 supplément express
J+8 livraison gratuite*
J+15 livraison gratuite* + 5% de réduction
*(hors affrètement spécial)

Des prix dégressifs
Une dégressivité des prix en fonction des matières et des quantités. Pour vous offrir les meilleurs tarifs

Vos achats en 3x sans frais
Pour vos achats de 100€ à 1500€, profitez du paiement en 3 fois sans frais... pour toujours plus de sur-mesure
Reviews about this product

Show attestation
Parfait respect de la commande et du délai

Fabrication d'étagères acier brut, perforé. Beaucoup d'aide reçue par téléphone, pour dessiner et positionner les trous. Livraison rapide et parfaite. Je recommande vivement.

Conception d'une plaque pour adapter une roue jockey motorisée sur une remorque. Résultat parfait, bien fini, adaptation parfaite !

les pieces commandées (2 plates de 3mm, perforés sur mesure) on été parfaitement conformes et usinées, et de plus envoyées dans un délai correct, sans parler du prix, lui aussi correct a mon avis

Produit de super qualité :) Super bien emballé pour la livraison. Je recommande.