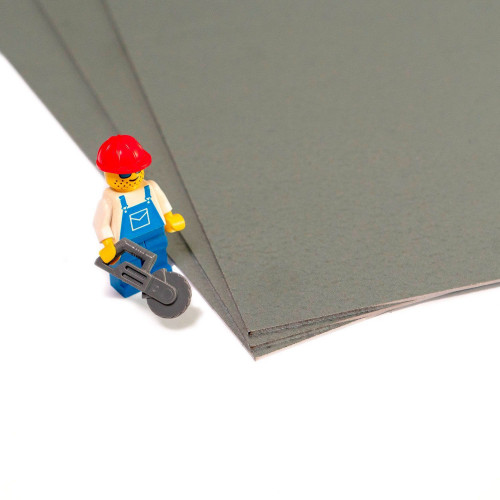 Rustproof galvanised steel S235JR
Hot galvanised
Doesn't rust
Mechanical resistance
Appearance
With a matt, metallic finish, the reflective appearance of galvanisation tarnishes over time.
Uses
Mainly used for street furniture (motorway guardrails, lamps, roof covers, gates and more), rustproof galvanised steel is also really good for protecting walls and creating works of art.
Characteristics
This steel is hot galvanised, which means it is coated with a layer of protective zinc which stops it from rusting. Although it is steel, you should not solder it as the evaporating zinc gives off toxic fumes.
This metal has been created to resist chemical products and corrosion
Technical informations
Minimum dimensions

40 x 40 mm

Maximum dimensions

2980 x 1480 mm

Thickness

1 - 1,5 - 2 - 3 mm

Look

Matte and gloss

Application

Exterior (street furniture, gutters, etc.) - Works of art

Defect

Possibility of scratches

Reference

Galvanized S235 JR steel

Fiche technique

Technical Sheet S235 Stahl
Une livraison gratuite
J+3 supplément express
J+8 livraison gratuite*
J+15 livraison gratuite* + 5% de réduction
*(hors affrètement spécial)

Des prix dégressifs
Une dégressivité des prix en fonction des matières et des quantités. Pour vous offrir les meilleurs tarifs

Vos achats en 3x sans frais
Pour vos achats de 100€ à 1500€, profitez du paiement en 3 fois sans frais... pour toujours plus de sur-mesure
Reviews about this product

Show attestation
9.4/10

Based on 15 reviews
Bon produit. Livraison rapide.

Plaque de 4 mm en acier galvanisé découpé selon mon plan en DXF Tout est nickel, même les trous au diamètre exact (2,5mm) permettant le taraudage en me Super boulot

Le concept est vraiment bien et pratique. La livraison a été faite dans le délai, même en avance. Par contre la finition est à améliorer, car il y a pas mal de rayure et micro-rayure gênante.

Découpes parfaites, emballage super solide, délai de livraison anticipé. Livraison par France Express au top. Rien à dire, que des félicitations

matériaux et découpe tout à fait conforme à mon attente. Juste un petit couac à la livraison le produit est arrivé dans un autre point relais mais ça s'est arrangé.

J'ai commandé une plaque en acier galvanisé anti-rouille pour un prix défiant toute concurrence. Le service est rapide, courtois et la livraison, en plus d'être offerte, était extrêmement rapide. Je recommande vivement ce site.

Commandes de 5 feuilles d'acier de 2 MM galvanisées. Coupe parfaite condtionement sécure et bien protecteur pour la commande et l'utilisateur. Délais raisonnables.

Pièces correspondant parfaitement au 0lan envoyé. Découpe nickel, et bon emballage de protection pour les transport. Ça fait plusieurs fois que j'achète chez John Steel et je le referai sans hésiter

bonne qualite découpe correcte.