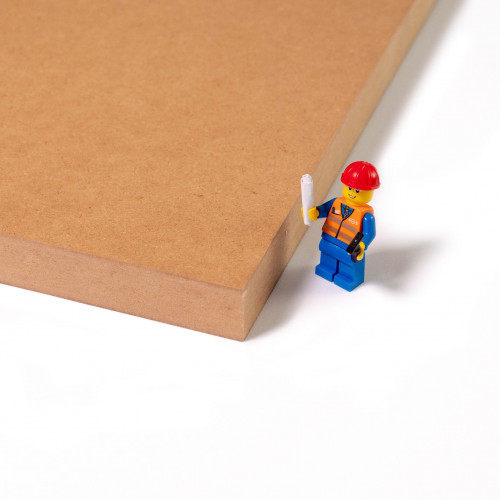 Natural MDF Sheet
Ideal for furniture
Fire and moisture-resistant
Can be painted, stained or varnished
Appearance
Multipurpose and aesthetically pleasing, natural medium-density fibreboard (MDF) is a hardwood-based fibreboard that has many advantages.
With a smooth and dense surface, a fine texture and low porosity, this homogeneous wood panel will adapt to all your needs and can be used for lots of made-to-measure wood cuts.
Uses
Medium-density fibreboard, also known as MDF, is a material you can rely on to make low-cost, personalised, made-to-measure furniture.
More economical than solid wood, you can use it to create original decor for your home (only for rooms with no moisture present) such as shelves, office furniture, boot cupboards, dressers, worktops, shop furnishings, etc.|
Important note:
- Avoid contact with water
Characteristics
Consisting of wood fibres and a synthetic bonding agent, MDF looks the same on every side, including the thin sides. MDF board therefore have a uniform structure making them easy to use.
Natural, unfinished MDF panels are designed to be painted, stained or varnished in the colours of your choice. You can also apply varnish for a more modern look with a glossy finish.
With both PEFC and FSC certifications, all our standard MDF panels also conform to the CE EN 622-5 standard.
Technical informations
Minimum dimensions

240 x 240 mm

Maximum dimensions

1800 x 1200 mm

Color

Tan

Look

Material

Standard

Certification
Une livraison gratuite
J+3 supplément express
J+8 livraison gratuite*
J+15 livraison gratuite* + 5% de réduction
*(hors affrètement spécial)

Des prix dégressifs
Une dégressivité des prix en fonction des matières et des quantités. Pour vous offrir les meilleurs tarifs

Vos achats en 3x sans frais
Pour vos achats de 100€ à 1500€, profitez du paiement en 3 fois sans frais... pour toujours plus de sur-mesure
Reviews about this product

Show attestation
Grande qualité, découpe parfaite et conditionnement très bien conçu. RAS

Le produit est conforme à ce qui était attendu et de bonne manufacture.

Mesures respectées au mm, livraison ok et service client hyper réactif. Je recommande !

Livraison rapide. Produit très bien emballé et de très bonne qualité. Professionnel à recommander ! Merci